21 November 2010 - FORMER ABSU GUITARIST AETHYRIS McKAY JOINS PANTHEON I
Pantheon I announced today that guitarist AETHYRIS McKAY, who recently quit the Texas-based mythological occult metal band ABSU, will be joining the line up as guitarist. This is a surprise move from the band who recently announced a search for a new vocalist to give front man ANDRE KVEBEK a chance to concentrate more on guitars and leave the vocalist to range free on stage. However, as PANTHEON I's manager explains "We received a big response from musicians all over Europe and auditioned vocalists of exceptional ability, all of whom we would have been proud to have front the band, however, it quickly became clear that we had overlooked the obvious, which was that KVEBEK's voice is a defining aspect of PANTHEON I's music, and that to replace it with someone else would have altered the whole dynamic of the band".

PANTHEON I and AETHYRIS first met when the band supported ABSU on their European tour at the end of 2009. AETHYRIS joined PANTHEON I on stage for a song during the tour, and forged a strong relationship with the band's music and the musicians themselves. Commenting on his new role the American guitarist, who has now relocated to Norway, said: "Joining PANTHEON I has been outstanding thus far. I feel as though I fit right in here and I love the passion and conviction that encompasses the material. This is an incredible arrangement of musicians and people that I can't wait to assault the world with!" Regarding his departure from ABSU, AETHYRIS commented: "There aren't words enough to say what being a part of ABSU has meant to me. Working with a great friend and talented individual such as PROSCRIPTOR McGOVERN, was an experience only to be described as Magical! The entire cult of ABSU will always hold a special place with me and I wish them all the best in their future endeavours."

Whilst KVEBEK (ex 1349) will concentrate on vocals on stage and leave the live guitar work to Sagstad and AETHYRIS, he will continue to write for PANTHEON I and will record guitars along with the band's two guitarists.

PANTHEON I are currently in the pre production stage of their fourth full length album, which will be a follow up to the critically acclaimed "Worlds I Create" and which will include guest appearances from several well known artists from the Extreme metal scene. The band will play two dates in Norway in November, which will mark AETHYRIS' live debut, and is also due to embark on a tour of Germany in December, along with fellow Norwegians TROLLFEST and the German bands FINSTERFORST and UNLIGHT.
26 September 2010 - IPHONE APPS, CONCERTS AND PREPRODUCTIONS!
Even though this website has not been updated in a while doesnt mean that the band have had litle to do. PANTHEON I has seemed uncharacteristically quiet recently it's because the band has been very, very busy working on things behind the scenes. However, we thought we'd take a few minutes breather and update you on what has been going on.

First of all, as you all know, we've been looking to increase the band by one more person with the addition of a vocalist. With the band expanding so much musically, this will allow Kvebek to put all his energies into the guitar, and give the band a front man who is free to roam the stage and interact more closely with the audience. Seems that there are a lot of very skilled vocalists out there who are interested in joining PANTHEON I and we are spending a lot of time listening to demos and doing live auditions. As a band we put 101% into what we do, so the right person for us will not only be good at what they do, which includes singing in both Norwegian and English, and being able to perform both clean and extreme vocals, but also be willing and able to rehearse in Oslo regularly, and definitely have a good sense of humour to fit in with the rest of us.

Secondly, we have been working our asses off recording the preproduction for the next album. We already have 13 new songs ready and whilst we would really like you to hear what you can expect, you'll just have to wait! We are ready to throw a few surprises your way, and the wait will be worth it.

December of course, sees us heading to Germany to co-headline the Ender Der Zeit tour with our colleagues from TROLLFEST. Also on the line up will be the German bands FINSTERFORST and UNLIGHT, as well as local supports. PANTHEON I are always eager to get on the road, and we're thinking this short tour, which takes place just before Christmas, and hence during the period when everyone is up for a bit of celebrating, will be a lot of fun for bands and fans alike.
01 February 2010 - ESP GUITARS AND MORLEY PEDAL ENDORSEMENTS
Both Sagstad ans Kvebek have received endorsement deals from ESP Guitars and Morley Pedals. Sagstad, who plays guitars from the ESP and LTD range commented, "Anyone who has played an ESP/LTD guitar will understand perfectly when I say that we wanted the best and we got the best". Guitarist/Vocalist Kvebek has this to say about his guitars of choice: "To hold an ESP/LTD guitar in your hands is the musical equivalent to holding a Gatling gun during a battle. It will crush everything in its path and strike fear in the weak". Regarding the endorsement from Morley Pedals front man Kvebek, never one to mince words, commented, "I use the Wah Pedals and I can say that I will never go back to using lesser products. When I step on the Wah it gives me the feeling and the sound of stomping on everything I despise".
27 December 2009 - CONFIRMED FOR SUMMER BREEZE 2010
PANTHEON I has been confirmed for the Summer Breeze 2010 Festival. More information regarding exact date and time will be confirmed as soon as we have it. Check out livesection.
24 November 2009 - NEXT STOP....RUSSIA
Fresh from a three week European tour in support of ABSU, we have confirmed that we will be heading for Russia in December to play two dates, one of which includes an appearance at the Black Winter Fest in Moscow.

The two dates are:
December 4 – Black Winter Fest, XO Club, Moscow
December 5 - Rocco Club, Nizhny Novgorod
Check out livesection.
14 October 2009 - EUROPEAN TOUR KICKS OFF FRIDAY, AND WE'LL BE BLOGGING AS WE GO!
The European tour with ABSU kicks off in Germany on Friday, and we have set up a blog, where we will be updating you regularly throughout the tour with news and photos. It's all set up and ready to go, and you can check it out here www.pantheoni.blogg.no where we've put all the dates for the time being, so check them out too, maybe we'll see you on the road.
17 august 2009 - PANTHEON I CONFIRMED TO SUPPORT ABSU ON EUROPEAN TOUR. NORWEGIAN TOUR DATES ANNOUNCED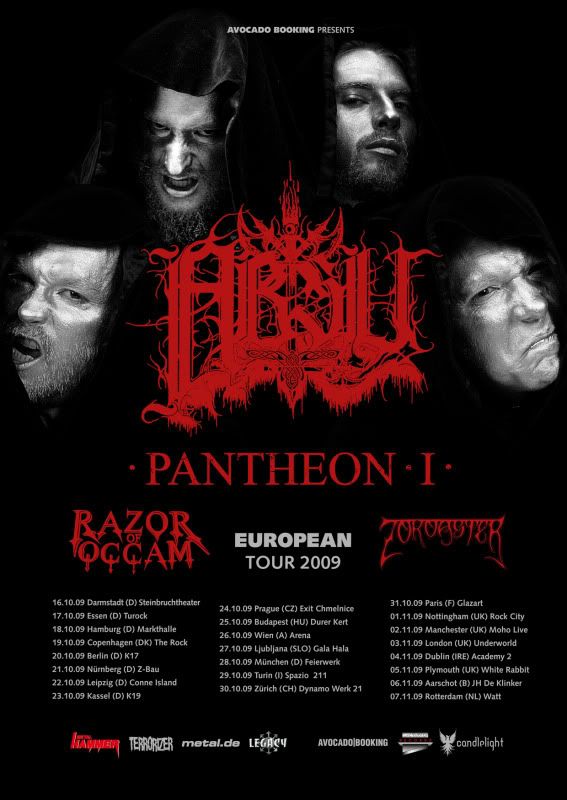 PANTHEON I have been confirmed to support ABSU on the 23-date European tour due to take place this autumn. The band's cellist, classically trained musician LIVE JULIANNE, explained about PANTHEON I's inclusion on the tour: "We didn't think originally that we would be able to do the tour because of other prior commitments. We had really put it completely out of our minds when the slot suddenly became available again just as we were re-scheduling a few things ourselves, so it all worked out perfectly. Playing live is something we all enjoy, and we have been looking forward to touring with the new album since we finished recording it. We're scheduled to do a 6-date tour in Norway in September before the European tour kicks off, so right now we're busy rehearsing and preparing. PANTHEON I never do things by halves, and we're ready to hit the road with a vengeance ".

Check out livesection for the tour schedule.
02 august 2009 - NEW VIDEO FOR "SERPENT CHRIST" UNVEILED
We have unveiled the new video for "Serpent Christ", a track taken from our newly released album, "Worlds I Create". "Serpent Christ", which shows PANTHEON I performing amidst scenes of bondage and torture, was directed by Espen Krukhaug, who also worked on the band's previous video "Where Angels Burn", and features Finland's Peik Mattheiszen in the role of torturer.Reprising their role of victims in the video are models Maria Olsen and Helga Bårdsdatter Kristiansen who were recently seen in the band's promo photos - the uncensored versions of which can only be found on this very website due to their explicit nature.

"Worlds I Create", which is PANTHEON I's third full-length album, was released at the end of July on Candlelight Records, and includes a guest appearance on the track "Ascending", from KATATONIA front man Jonas Renkse. Three tracks from "Worlds I Create" are currently streaming on our MySpace page, together with the new video, at http://www.myspace.com/pantheoni

PANTHEON I, are currently preparing for a short tour of their home country, as well as looking into the possibility of touring Eastern Europe, and are planning to hit the road in November on a European tour along with SKITLIV, the new band from former MAYHEM front man MANIAC, and DEN SAAKALDTE. Tour dates will be announced as soon as they are confirmed.
26 july 2009 - PANTHEON I's "WORLDS I CREATE" HITS THE STREETS MONDAY + NEW MYSPACE DESIGN
"Worlds I Create", the third full-length album from Norwegian extreme metallers PANTHEON I, is due for release worldwide on Candlelight Records, on Monday 27th July. The album includes a guest appearance from KATATONIA front man JONAS RENKSE who contributes vocals on the track "Ascending".

Track listing for "Worlds I Create" as follows:
1.Myself Above All
2.Defile the Trinity
3.Serpent Christ
4.Ascending
5.Burn the Cross
6.Bannlyst
7.The Last Stand
8.Written in Sand

The band has been working on a video for "Serpent Christ" which will be launched shortly. The track itself was recently released as a single for digital download, together with "Enter The Pantheon" a song that has so far only been available on the band's first demo, and was completely re-recorded for inclusion on the single. They also wrote and recorded the song "I'll Come Back As Fire" for the Chad Ferrin horror film "Someone's Knocking At The Door", which made it's US debut recently at San Francisco's "Another Hole In The Head" film festival.

2009 is shaping up to be a busy year for PANTHEON I, with a Norwegian tour in the works, as well as a the prospect of tour in Eastern Europe, and a European tour with Maniac's SKITLIV and DEN SAAKALDTE currently being planned.

More information about PANTHEON I can be found on the band's MySpace page at www.myspace.com/pantheoni
30 june 2009 - SINGLE RELEASED FOR DIGITAL DOWNLOAD
On Monday 29 June, the single "Serpent Christ" was released. "Serpent Christ" is taken from the forthcoming album "Worlds I Create", and will be available on Candlelight Records via digital download only. Also on the single is the first ever PANTHEON I song to have been written. "Enter The Pantheon" has so far only been available on the first demo, and has been completely re-recorded for inclusion on the single. You can get "Serpent Christ" from the 29th June at itunes, amazon.com and play.com
18 May 2009 - Specially written track from movie soundtrack now uploaded
"I'll Come Back As Fire" a track specially written by PANTHEON I for the sound track of the horror film "Someone's Knocking At The Door" is now streaming on the band's MySpace page at www.myspace.com/pantheoni. The film itself, which is described in promotional material as a "genre-defying grind-house throwback" is directed by Chad Ferrin ("The Ghouls", "Easter Bunny Kill, Kill"), will make it's US debut on the 8th June at San Francisco's "Another Hole In The Head" film festival.
04 May 2009 - Artist Deal With Mesa Boogie
We are proud to announce that Kvebek and Sagstad have signed an artist deal with the legendary Mesa Boogie Amplifiers. We're both perfectionists when it comes to our individual sounds, and we both agree that the guitars have never sounded better.
10 March 2009 - Please welcome Mads G to the Pantheon-I crew!!
We are proud to announce that Mads G has joined the band as the new drummer!! Mads G did the drumming on our new album "Worlds I Create" and we cant wait to to display the new found power of Pantheon-I through future live gigs. First up is the Inferno Festival in April.
Band>>
15 February 2009 - Inferno + studio update
Pantheon I has been confirmed for the Inferno Festival 2008. Pantheon I will play at John Dee April 10th at 20.45.

The recording of "Worlds I create" is nearing completion, only vocals and cello remains to be recorded.

Tracklisting (in no particular order):
Written In Sand
Defile The Trinity
Bannlyst
Serpent Christ
Ascending
My Self Above All
The Last Stand
Burn The Cross

The album will be released through Candlelight Records June 1st 2009.
26 January 2009 - Recording of "Worlds I Create" have begun!!
Alot of things have been going on with the band lately. Dan has left Pantheon I to pursue different musical expressions, we wish him all the best and thank him for the brilliant job he has done for Pantheon I. His last gigs with the band was the Finland tour we did supporting Keep Of Kalessin (Big hails to Töni, Peik, Janika, Anna, Janni, Morten and the guys from Keep of Kalessin for making this one of the funniest and most alcoholic trip ever!!)

Pantheon I have been rehearsing alot with the new skinsman Mats Guldbekkhei (The Allseeing I), preparing him for the fury of "Worlds I Create". The band entered "Strand Studio" today and will record 9 songs during the next month.
24 December 2008 - Back to create more havoc in Finland...
Pantheon-I will support Keep of Kalessin on their minitour in Finland in January. Check the live section for dates.
Live>>
18 November 2008 - Worlds I Create
We have spent most of our energy on writing material for the new album lately, which is scheduled for release mid-2009 through Candlelight Records. The album has been entitled "Worlds I create", and as of today we have 7 songs done! We will enter the studio late January if everything goes as planned! We have also done several one-off shows the last 6 months, including the Interregnum festival in Germany, and the Jalometalli festival (With Overkill, Satyricon, Mayhem +++) in Oulu, Finland. In October we did our first headliner-tour abroad, a mini-tour in Finland with Enochian Crescent (FIN) and Coprolith (FIN). We had a blast in Finland, and we hope to return soon as possible to create even more havoc!! After coming home from the mini-tour we went into Strand-Studio to record a brand new song called "I'll Come Back As Fire", which will be featured in the film "Someone's Knocking At The Door" an American horror-movie now in the post-production process. We are also proud to announce that we have signed up with Pihkamedia for festivals and tours in finland and regarding the rest of the world we have teamed up with Listenup music.
15 July 2008 - Finland under attack...
In Octber, Pantheon-I will embark on a mini-tour in Finland with Enochian Crescent and Coprolith. Check the live section for dates.
Live>>
19 June 2008 - Dunkelheit Festival cancelled
PANTHEON I will not play at this year Dunkelheit Festival.
Live>>
15 May 2008 - Two new confirmed gigs..
PANTHEON I have been confirmed to play at Dunkelheit Festival in Czech Republic, August 29 -30, 2008 and a support gig for Ava Inferi at Sebs Hotel in Hamar, Norway, 10 October 2008.
Live>>
24 March 2008 - Finland under attack...
PANTHEON I have been confirmed to play at Jalometalli in Oulu, Finland, Club Teatria on August 15 -16, 2008.
Live>>
26 February 2008 - Two Festivals...
PANTHEON I have been confirmed to play at the following festivals: Molde Metal Festival (Norway) and Interregnum Fest (Germany). More info in the live section.

In other news: Help PANTHEON-I to get to Metal Camp 2008!! VOTE FOR US! Cheers!
Live>>
19 Novemer 2007 - Where Angels Burn (Music video)
The music video for "Where Angels Burn" is finished. This is where they burn...
04 Novemer 2007 - Viva la France!
In December, Pantheon-I will embark on a tour in France with the legendary Norwegian black metal band Mayhem. Check the live section for dates.
Live>>
18 October 2007 - Contest
Heavymetal.no has a contest going where you can win a couple of tickets for the Pantheon-I gig at Club Maiden (Oslo, 27th of October).
Contest>>
11 October 2007 - Where Angels Burn
Live at Club Maiden (Oslo) 27th of October! Doors open 21.00 and it costs 80 NOK. Other bands will be announced shortly.
In other news: PANTHEON-I will record a music video for "Where Angels Burn" this weekend. More info later.
Live>>
01 October 2007 - The boobs are okay...
PANTHEON I will do a miniconcert at "The eXperience" openingshow on thursday (4th of Oct). The event will take place at Valhall (Valle hovin) in Oslo. Several bands will hit the stage during thursday, and on saturday the new up and coming Norwegian popstar Lene Alexandra will do her kick ass song, "My boobs are okay!"
Live>>
18 September 2007 - Oslo, never to rise again...
PANTHEON I are confirmed to support Susperia at John Dee (OSLO) the 2nd of October.
Buy tickets.
Live>>
08 September 2007 - Hamar laid in ruins
PANTHEON I are confirmed to play at Rocktober in Hamar. This event will take place at "Sebs Hotel", 25th of October. Entrance is free!
Live>>
06 August 2007 - Artwork for sale
If you are in Oslo the next couple of weeks, make sure to drop by "Deichmanske Bibliotek" at Torshov where Kjell Åge Meland is having an art exhibit. Among the paintings for sale, you`ll find the original painting of "The Wanderer and His Shadow" ( dimensions 150cm x 120 cm ).
01 August 2007 - Chaos in Lillestrøm
PANTHEON I are confirmed to headline the blackmetal assault on Lillestrøm (Norway), 14th of August. Other bands playing are Thyruz, Fatal Demeanor and Framferd. This extreme event will take place at Connect Klubbscene (kulturhuset i Lillestrøm). Doors open at 20.00.
Live>>
07 May 2007 - "The Excess of Evil" tour cancelled
Due to events beyond our control we are sad to inform you that the upcoming european tour has been cancelled. We apologize for the inconvenience and dissappointment and hope to see you on tour as soon as possible.
Live>>
24 April 2007 - "The Wanderer and His Shadow" e-card
An e-card for the new PANTHEON I album, "The Wanderer and His Shadow", is available at
this location.
Releases>>
31 March 2007 - Cyanide Storm for download!
"Cyanide Storm" from PANTHEON I's Candlelight debut "The Wanderer And His Shadow" is now available for download in it`s complete form.

"The Wanderer And His Shadow" release date:
Europe - 2nd April 2007
USA - 22nd May 2007

Releases>>
28 February 2007 - New Merchandise
New official PANTHEON I merchandise available at: http://www.plastichead.com/
Merch>>
19 January 2007 - Metal Hammer UK
Make sure to get your hands on this months Metal Hammer UK for your chance to hear a new track from the upcoming PANTHEON I album, "The Wanderer and His Shadow". The song, "Cyanide Storm", is futured on the free CANDLELIGHT RECORDS 2007 sampler CD that comes along with the magazine (only in the UK).
6 January 2007 - European tour
MARDUK, ENSLAVED, KEEP OF KALESSIN, MELECHESH, GOATWHORE and PANTHEON I will team up for The Excess of Evil European tour beginning in early May. Check the live section for dates.
Live>>
26 December 2006 - The Wanderer and his shadow
Due out April 2 through Candlelight Records, the new album has been dubbed "The Wanderer and His Shadow" and clocks in at just over 40 minutes. The album was recorded and mixed by Christian Wibe at Nye Losjen studios.

The tracklisting is as follows:
01. Origin of Sin
02. The wanderer and his shadow
03. Cyanide Storm
04. Coming to an end
05. Shedim
06. Where angels burn
07. My curse
08. Chaos incarnate

Guest appearance on "Coming to an end" by Solefald vocalist Lazare Nedland and Nachtgarm from Negator on "Chaos incarnate". Former PANTHEON I member Gunhild has lended us her great violin skills on "Where angels burn". The front cover will once again be a kick ass painting done by Kjell Åge Meland, who did the front cover to "Atrocity Divine".
Releases>>